Pôle Restructuration
Head of research group: Vasile Rotaru
Vasile holds degrees from Sciences Po Law School and the Sorbonne, where he studied financial law, philosophy of science and mathematical logic. He also studied at Columbia Law School, focusing on the economic analysis of corporate/finance law and intellectual property, as well as on legal theory.
He is currently an Elève-avocat and has worded in this capacity in several law firms specialised in Bankruptcy and Restructuring, Corporate law and Capital Markets. 
Vasile has authored several articles and interdisciplinary papers on restructuring law (from a functional law and economics perspective), algorithmic law enforcement and legal theory.
The Rules for Growth Institute's restructuring research group focuses on corporate and natural persons' insolvency as well as, more recently, sovereign insolvency.
Since its creation, the Rules for Growth Institute has offered a theory for insolvency proceedings rooted in lessons derived from the economic analysis of law. The Rules for Growth Institute's restructuring team is regularly consulted by the French and European public authorities in order to improve the effectiveness of various bankruptcy laws that are structuring for our economy and our financial markets.
Publications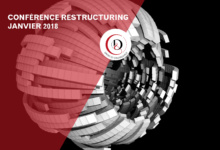 Relive the conference Votre navigateur ne supporte pas les iframes. Read the comment of Debtwire about the symposium Program: Opening of the symposium by Mrs Sophie Vermeille, President of Droit & Croissance / Rules for Growth Keynote speakers Ms Mihaela Carpus Carcea, Legislative officer, Directorate-General for Justice and Consumers, European Commission, Mr Sébastien Raspiller, Deputy Assistant Secretary, Corporate Financing and Financial Markets […]
0 comments